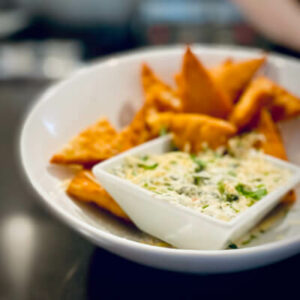 Spinach & Artichoke Dip
Fresh spinach and cream cheese are the base of this classic. Served with salted and fried pita points.
$12.99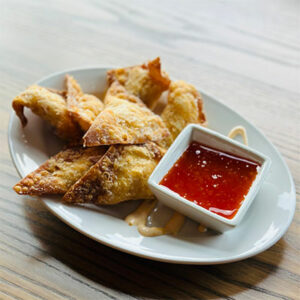 Bacon Wontons
A rich blend of bacon, cream cheese, and charred sweet corn wrapped in a crispy wonton. Served with sweet Thai chili sauce.
$11.99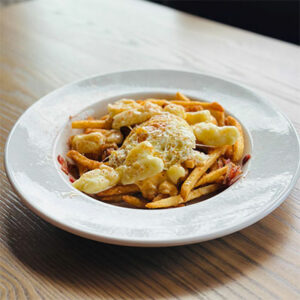 Breakfast Poutine
The combination of savory ingredients of cheese curds, chopped bacon, maple syrup and cheese sauce over crispy battered fries finished with an over easy egg.
$13.99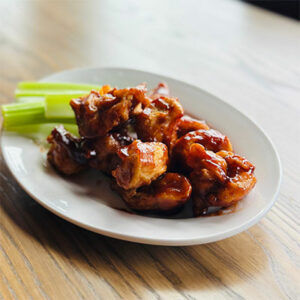 Boneless Wings
Tender chicken fried golden. Choose your favorite sauce from Buffalo, BBQ, Thai Chili, or Parmesan Garlic.
$10.99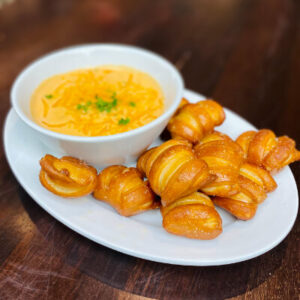 Beer Cheese Dip & Pretzel Bites
Sharp blend of cheddar and romano cheeses enhanced with craft brew flavor of New Belgium's Fat Tire Amber Ale. Perfectly paired soft pretzel bites.
$13.99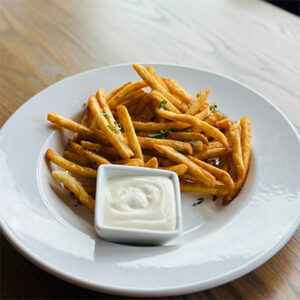 Fire Fries
Brew city fries are dusted in a spicy Ghost Pepper Dry Rub. Served with Ranch.
$8.99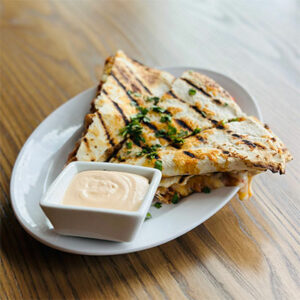 BBQ Chicken Quesadilla
Delicious and satisfying. Made of sharp cheddar, pepper jack, shredded BBQ chicken, roasted red peppers and black beans.
$12.99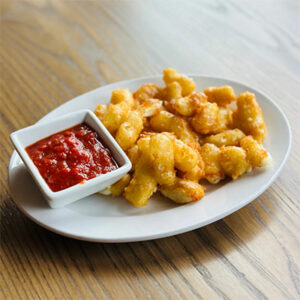 Cheese Curds
Fresh Wisconsin curds are beer battered and fried gooey and golden. Served with zesty Marinara.
$11.99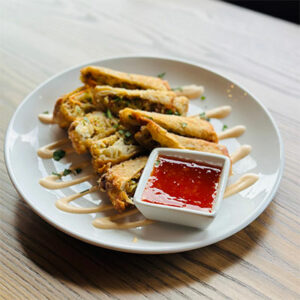 Filipino Egg Rolls
Spiced pork combined with shredded cabbage, carrots, and seasonings rolled in a wheat flour wrap and fried. Served with Thai Chili sauce.
$12.99
Ranch | French | Balsamic Vinaigrette | Caesar | Blue Cheese | Honey Herb Vinaigrette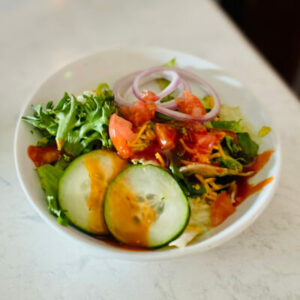 House Salad
Harvest blend salad medley with cheddar cheese, crisp red onions, fresh tomatoes, and refreshing cucumber. Your choice of dressing.
$3.99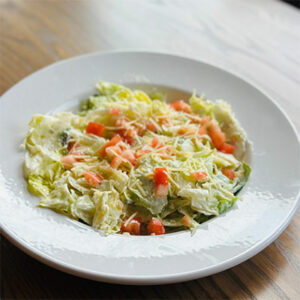 Caesar Salad
Array of fresh greens tossed in Caesar dressing with shredded parmesan and fresh tomatoes. Served with dinner roll and whipped maple butter.
$9.99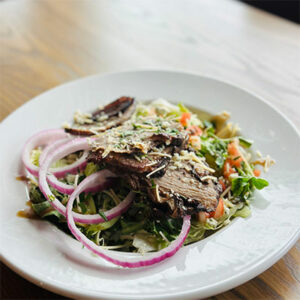 Sliced Beef Salad
Seasonal salad medley with tender roasted beef, fresh tomatoes, pungent blue cheese, red onion rings and balsamic vinaigrette. Served with dinner roll and whipped maple butter.
$14.99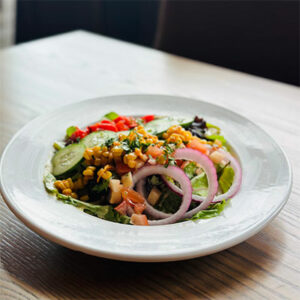 Charred Corn Salad
This colorful salad bursts with flavor and texture, featuring the sweetness of charred corn complemented by tangy honey herb vinaigrette and the crunch of fresh vegetables. Served with dinner roll and whipped maple butter.
$11.99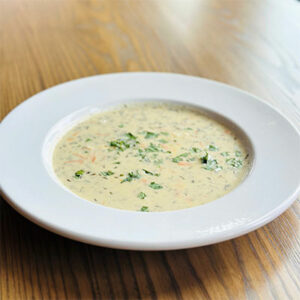 Dilly Chicken Wild Rice Soup
Tender chicken and wild rice in smooth and creamy chicken base with a touch of dill.
8 oz Cup $6.99
16 oz Bowl $12.99
$6.99
All burgers & Sandwiches come with Kettle Chips
Upgrade to Brew City Fries $1.99
Upgrade to House or Caesar Salad $2.99
Upgrade to Cheese Curds $3.99
Upgrade to Chicken Wild Rice Soup $5.99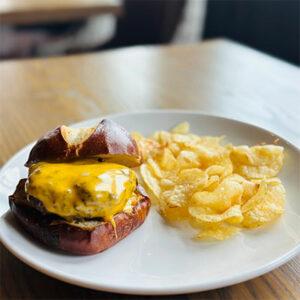 2-Cheese Burger
Buttery pretzel bun with handmade burger stuffed and covered with american cheese.
$11.99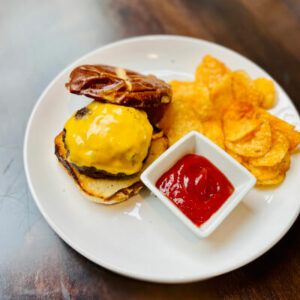 3-Cheese Bacon Burger
For the cheese and bacon lover. Handmade patty loaded with american and pepper jack cheeses and topped with crispy bacon.
$13.99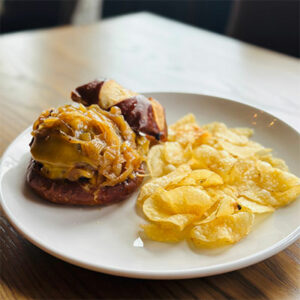 BBQ Bacon Cheeseburger
Bursting with flavors of cheddar cheese, tangy BBQ, bacon, and sauteed onion on top of an American stuffed beef patty.
$13.99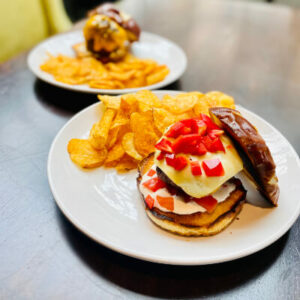 Ghost Burger
More than MN spicy starts with an american stuffed patty seasoned in ghost pepper dry rub. Crispy bacon, spicy sour cream, roasted red peppers, pepper jack, and cooling fresh tomatoes add to the flavor.
$13.99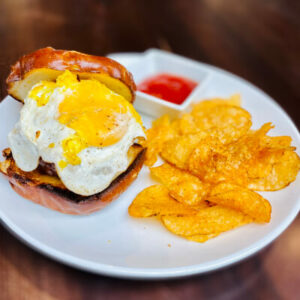 Brunch Burger
Perfect for any time of the day. American stuffed and topped with bacon, maple, and an over easy egg.
$13.99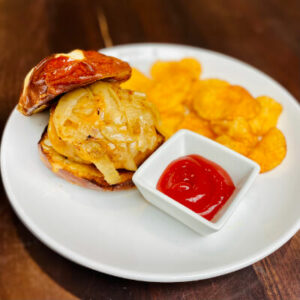 Mushroom Bacon Cheddar Burger
Indulgent burger with sautéed mushrooms, sharp cheddar, crispy bacon, and roasted garlic mayo.
$13.99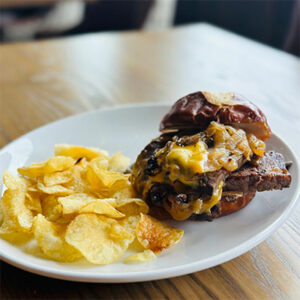 Sliced Beef Sandwich
Roasted beef crusted with salty herbs topped with sauteed mushrooms and onions, roasted garlic mayo, and cheddar cheese.
$13.99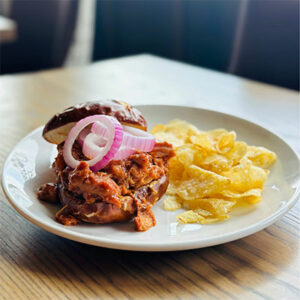 BBQ Pulled Chicken Sandwich
Savor this sandwich of tender pulled chicken, tangy pickles, and red onions on a soft pretzel bun.
$12.99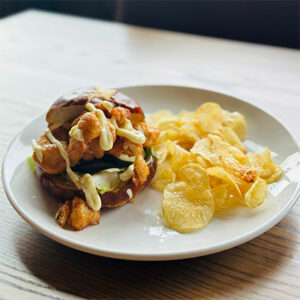 Walleye Sandwich
Beer battered Red Lake walleye on a toasted bun with lettuce, pickles, and tartar sauce.
$15.99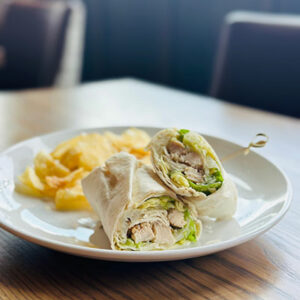 Chicken Caesar Wrap
Healthier yet tasty option. Sliced grilled chicken surrounded by fresh greens, robust Caesar dressing, and shredded parmesan.
$12.99
All entrees served with dinner roll and whipped maple butter.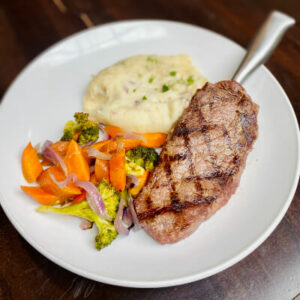 Sirloin
Our grilled sirloin is cooked to perfection on an open flame. Served with garlic mashed potatoes and chef vegetables.
5 oz. Sirloin $17.99
9 oz. Sirloin $23.99
$17.99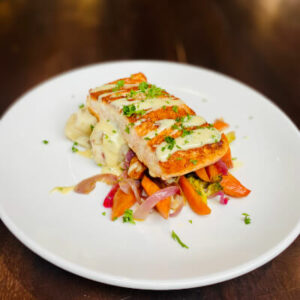 Honey Herb Salmon
A favorite from our predecessor. Herb seasoned salmon is pan seared and roasted. Finished with bright herb vinaigrette. Served with garlic mashed potatoes and chef vegetables.
$22.99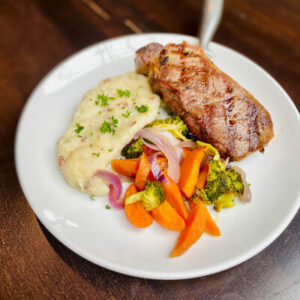 Kansas City Strip
A meat lovers favorite for its 14 oz of tenderness and rich, beefy flavor. Served with garlic mashed potatoes and chef vegetables.
$28.99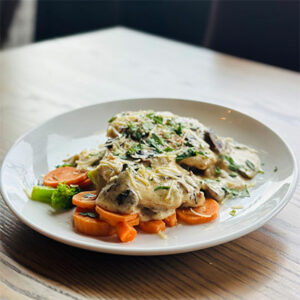 Chicken de Canard
Pan fried chicken breasts in distinctively flavored duck fat topped with creamy mushroom sauce and savory bacon. Served with garlic mashed potatoes and chef vegetables.
$21.99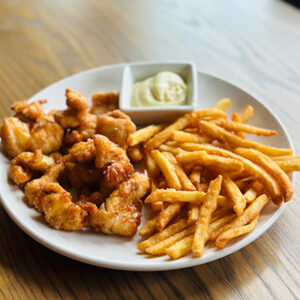 Walleye Fish & Chips
MN's favorite fish beer battered with Brew City fries, roasted garlic aioli, and fresh lemon.
$23.99
All pasta is served with dinner roll and whipped maple butter.
Add a Grilled Chicken Breast $4.99 | Add a 5 oz. Sirloin $9.99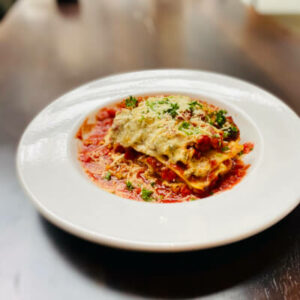 Lasagna
Classic Italian dish of layered tender pasta, marinara sauce, creamy ricotta, mozzarella, parmesan, and basil.
$14.99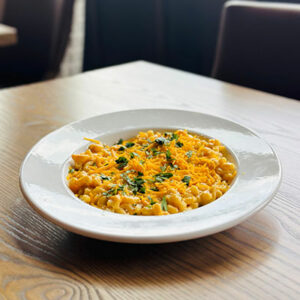 Beer Cheese Macaroni
Deep flavors, smooth, and creamy cheddar with a crispy crunch top.
$13.99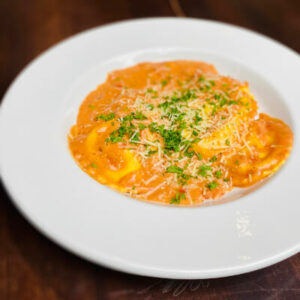 Four Cheese Ravioli
Rich cheese stuffed ravioli is served with a creamy tomato sauce.
$14.99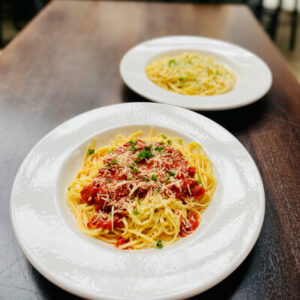 Spaghetti
Rich and powerful marinara sauce is served over linguine with shredded parmesan cheese.
$10.99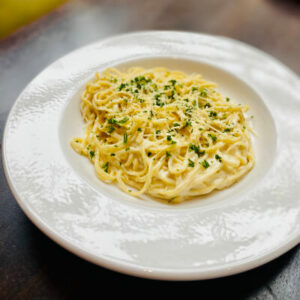 Alfredo
A favorite made of linguini and creamy alfredo sauce.
$12.99
Kids meals come with carrots and ranch to start as well as milk, lemonade, or soda.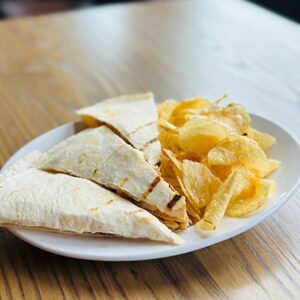 Chicken and Cheddar Quesadilla
A flour tortilla is filled with diced chicken and cheddar cheese. Simple and delicious just as a kid likes it. Served with kettle chips.
$9.99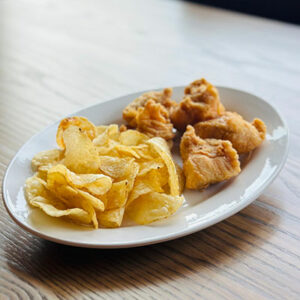 Chicken Strips
Perfect for picky eaters, these are sure to satisfy even the smallest appetite. Served with kettle chips and ranch.
$8.99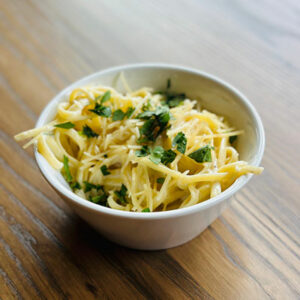 Mini Alfredo
Special creamy alfredo sauce with delicious noodles.
$7.99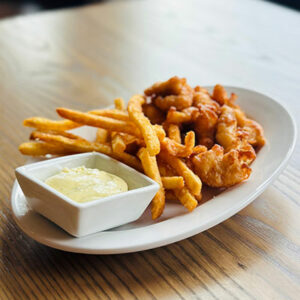 Kids Walleye Fish & Chips
Battered Red Lake Walleye and kettle chips.
$12.99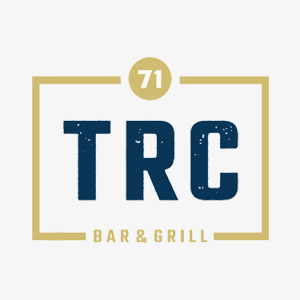 Youngsters Spaghetti
Red sauce over linguini and sprinkled with parmesan.
$7.99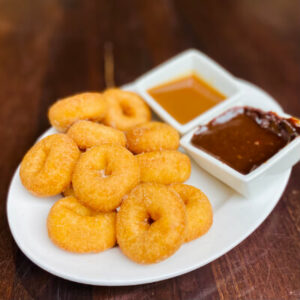 Mini Donuts
Sweet dough is fried golden, tossed in cinnamon sugar, and served with fudge and caramel for dipping.
$9.99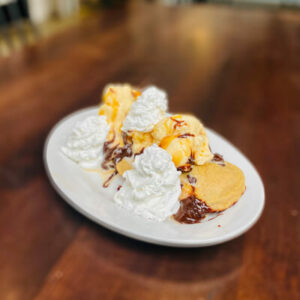 Chocolate Chip Cookie Sundae
Scoops of vanilla ice cream, chunks of chocolate chip cookies, covered with fudge, caramel, whipped cream, and a cherry on top of course.
$9.99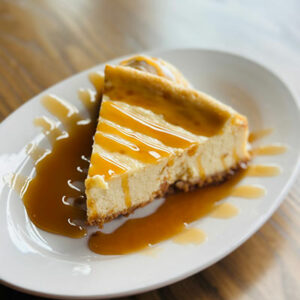 Nana's Cheesecake
One of Nana's all-time best recipes is silky smooth and delicious with a buttery graham crust. Top it with your choice of fudge and/or caramel.
$9.99
Local Craft Cocktails of MN.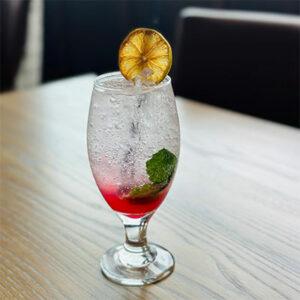 Mojito
Muddling the flavors of mint, lime, rum, and your choice of sweetness. This cocktail is topped with soda and is OHHH so refreshing.
Flavors: Original, Strawberry, Blueberry, or Raspberry.
$7.00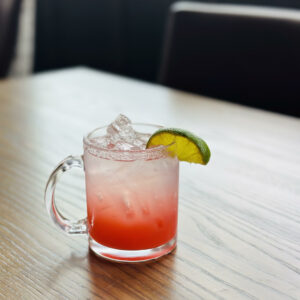 Margarita
A classic tequila cocktail with a MN twist of fruit flavor and our house sour.
Flavors: Original, Strawberry, Blueberry, or Raspberry.
$7.00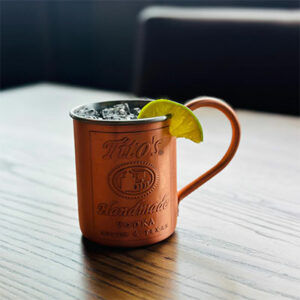 Mule
Vodka, lime, and ginger beer are MN nice when you add a sweet fruit syrup of your choice.
Flavors: Original, Strawberry, Blueberry, or Raspberry.
$7.00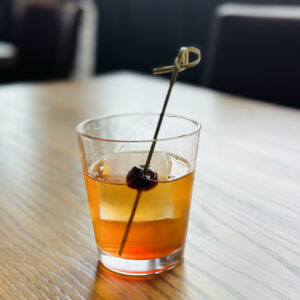 Old 71- Fashioned
Our take on a local favorite. Try our original Bourbon old-fashioned with a splash of Maraschino liqueur, scrappy bitters, and garnished with a "filthy" black cherry.
$9.00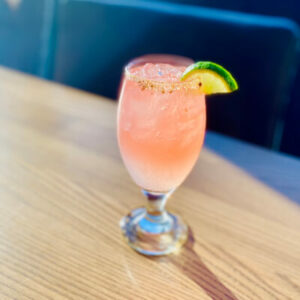 Snow Bird
Our winters are cold, and we don't blame you for wanting to take off to Mexico. Try out the National drink of Mexico—a Paloma cocktail with tequila and lime topped with Jarritos grapefruit soda.
$9.00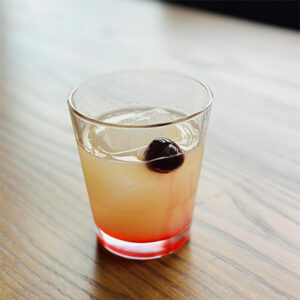 Shut your filthy mouth
This version of the last word cocktail will leave you speechless. Using MN spirits, we combine Vikre Gin, Vikre Herbal Liqueur, and Maraschino cherry liqueur and garnish with a Filthy black cherry.
$9.00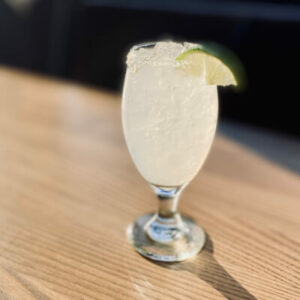 Snow Goose
Take flight with the Snow Goose – a refreshing vodka-based cocktail rimmed with our delicious vanilla salt and topped off with tangy grapefruit soda. It's the perfect blend of sweet and sour that'll have your taste buds soaring!
$9.00
On the Gun: Coke, Diet Coke, Sprite, Sprite Zero, Dr. Pepper, Mello Yello, Barq's Root Beer, Lemonade, and Iced Tea. - $3.00
TRC TAP LIST
Choose from two glass sizes - 19.25 oz or 35 oz. Big Mug
Bemidji Brewing German Blonde $8
Bemidji Brewing Seasonal IPA $8
Bemidji Brewing Red X $8
Modelo $6
PBR $6
Summer Shandy $7
Coors Light $6
Kona Big Wave $7
Michelob Golden Light $6
Cider Boys Papaya Paradise $7
THC NA OPTION: $10
Minny Grown Seltzers - 5mg THC per cocktail
Boat Cruise Cosmo
Sex On The Sandbar
Lemon Drop-Let's
Moscow Moose
Ohhhh My Minnarita
In the bottle or can
Coors Light $4.50
Miller Light $4.50
Miller High Life $4.50
Budweiser $4.50
Bud Light $4.50
Michelob Ultra $4.50
Michelob Golden Light $4.50
Busch Light (Bottle and Pounder) $4.50
Grain Belt Premium $4.50
Corona $5.50
Stella Artois $5.50
Bud ZERO $4.50
Labatt NA $4.50
Press Seltzer: Peach Rosemary, Dragon Fruit Lotus, Guava Rhubarb, Watermelon Sea Salt $5.50
White Claw Black Cherry Seltzer $5.50
Wine List
Angeline Sauvignon Blanc $7
Angeline Chardonnay $7
Angeline Pinot Noir $7
Angeline: Cabernet Sauvignon $7
Wycliff Brut $7
Risata Moscato $8
Overstone Sauvignon Blanc $9
Josh Red Blend. $9
McManis Cabernet Sauvignon $9
MONDAY
ALL PASTAS $9.99 EACH
TUESDAY
ALL BURGERS $9.99 EACH
WEDNESDAY
ALL APPETIZERS $8.99 EACH
THURSDAY
SIRLOIN NIGHT $18.99 - 9 OZ.
FRIDAY
KANSAS CITY STRIP NIGHT $23.99 - 14 OZ.
SATURDAY
DATE NIGHT $49.99 - APPETIZER, 2 ENTREES & DESSERT
SUNDAY
KIDS EAT FREE!
Happy Hour
Monday-Saturday 4-6 PM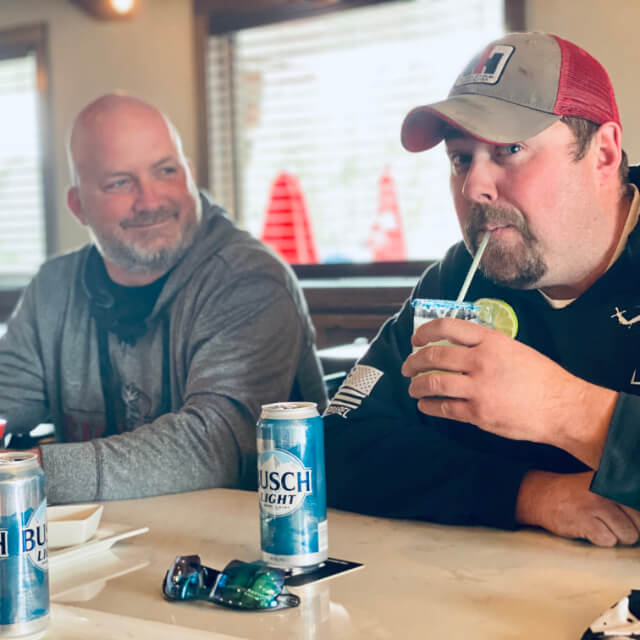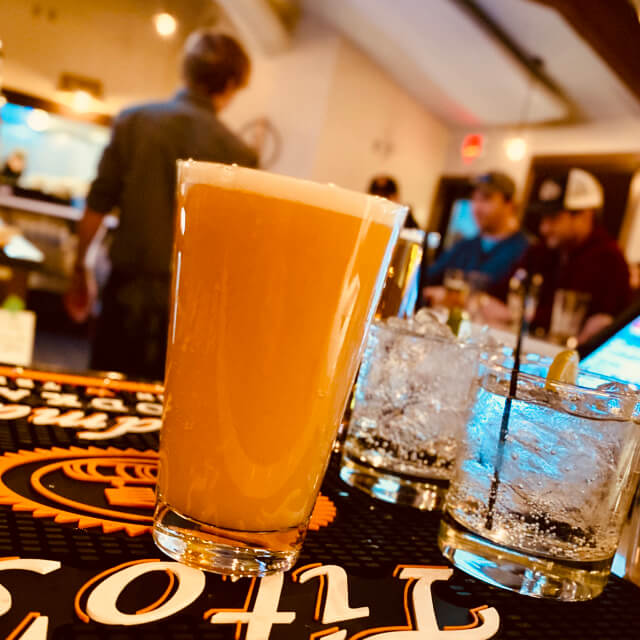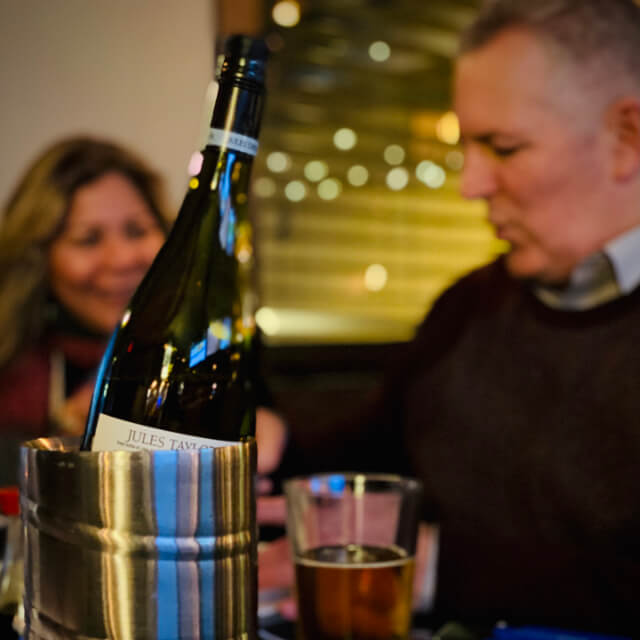 Consuming raw or undercooked meats, poultry, seafood, shellfish, or eggs may increase your risk for food-borne illness, especially if you have a certain medical condition.